Flying the Mooney Bravo

From: Peter F. Steeger [mailto:peter@steeger.us]

The link to AOPA-J "around the world flight"

here is my story.

The airplane was the Mooney Bravo N1005X. It is a very new type of Mooney,
with long and low tail. Upon touch down you must be at least below 65 knot
and the stalling speed is 59. Approach speed is 75knot these are at least
the speeds I used and they worked well always. The airplane has an engine
with 270 BHP continues power (turbo) and can be flown at 200 knots TAS. On
our trip we reached 217 knot GS and the lowest was 162 kn.
| | | |
| --- | --- | --- |
| | | |
| N1005X, "our" plane | Go Route | Back Route |
The members were

1. Noboru Kumazawa 61Y
2. Mikiyo Fujii 42Y
3. Peter Steeger 43Y

Mr. Kumazawa and Mr. Senzaki in front of the Bonanza which is to fly around the world with the Japanese AOPA team. The initial plan was to join them In Fairbanks, fly together to Yellow Knife and then go back to Seattle. However, they got stranded in Russia and where much to late to arrive in the US for us to join.

All we three in Anchorage, in front of our plane.
The three pilots (from left): Mikiyo Fujii, Peter Steeger, Noboru Kumazawa

(1) and (2) are from Nagoya.

We all flew UA from Narita to Seattle and rented the airplane in Seattle
Boeing Field (BFI). The company was Galvin Flying and I had visited them end
of April for the check out in the airplane. It took me two flights and three
sessions of ground school to be signed off. Actually many people we met
where surprised to learn that we rented the airplane, because it is almost
new (build in 2000) and costs approx. 450,000$. The equipment included AP,
WX, TKS anti-icing, oxygen, and two Garmin GNX 430 GPS/NAV/COM with moving
map. Really a wonderful toy. As they say, big boys big toys!!

Our schedule was as follows:

Lv. Narita on June 1.st, 2000 (Friday) and arrive the same day (!) in the
morning 10:01in Tacoma airport of Seattle.
However the weather was far from perfect, so we decide to check-out the
airplane, do some preparation and stay overnight in the Red Lion Hotel close
to the airport (KBFI).
KBFI (Seatle)
June 2nd., weather is better, but still we have to expect low clouds. As
the airplane is still a little new to us, we want to stay VFR in the
beginning and file the flight plan accordingly. Port of entry is Port Hardy
in Canada. However when we reach Victoria (CYYJ), we are only cruising at
500-1000 feet above the water and decide to land. As the weather does not
improve and we meet a few nice people in Victoria, we decide to join a guy
to an airport festival at an airport 1.5h drive away. He later brings us
back to Victoria airport and a Hotel nearby. However, electricity is down
that afternoon and it was only after 20:15, when it returned to normal.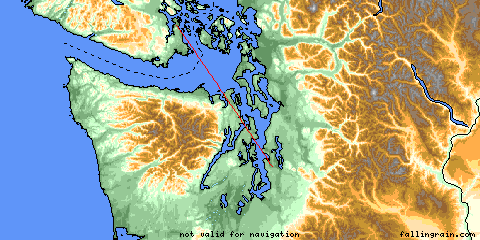 KBFI (Seatle) - CYYJ (Victoria)
| | | | |
| --- | --- | --- | --- |
| | | | |
| a Lancair at Nanaimo | Photo together with Robert, we met him in Victoria. He was so kind to take us by car to Nanaimo (CYCLED) for a fly-in. | An Amphib at Nanaimo | Victoria Airport, where we stayed overnight because of bad weather |
June 3rd., weather is much improved, blue skies and we go to Port Hardy
(CYZT). We eat good lunch at Port Hardy and continue to Prince Ruppert
(CYPR). As the weather stays fine, we fly further to Ketchikan (PAKT). The
customs and immigration guy is as nice and friendly as they were in
Victoria. And it takes only 15 minutes and we take the ferry for the hotel.
Ketchikan is quite busy, due to the many cruise ships coming through. From
the Hotel we can view many Seaplanes taking of and land on the nearby river.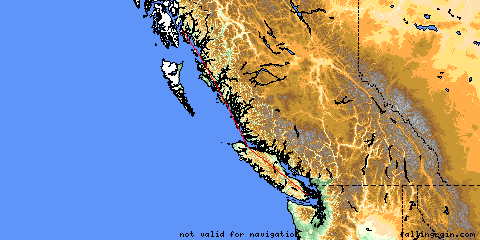 CYYJ - CYZT (Port Hardy) - CYPR (Prince Ruppert) - PAKT (Ketchikan)
PAKT (Ketchikan)
| | | |
| --- | --- | --- |
| On our way to Port Hardy | Port Hardy | Amphibian Airplanes at Port Hardy |
Ketchikan. Parallel to the Int.'l airport in PAKT, there is a seaplane "runway".
June 4th., initially we wanted to be in Fairbanks this day to meet two
airplanes from Japan on their trip around the world. However they got stuck
in Russia and hence we lost our purpose/target. Nevertheless, about 10 years
ago I got my private license in Anchorage, Merrill Field (PAMR) and that is
the place we reached on this day. It was raining when we left Ketchikan and
weather was supposed to remain like this for the whole week. But there was
no icing forecasted and visibility was 10sm in light rain with a ceiling
above 3000'. The FAA guy recommended an "easy" IFR departure procedure to me
during the weather briefing and at our next stop in Yakutat (KYAK) the
weather was supposed to be good VFR. In any case the approach course to that
airport was from the sea and no immediate mountains there. Indeed, when we
arrived at Yakutat, the sun was shining. The place however is in the middle
of nowhere. We continued the same day to Merrill Field. While we where
initially on a VFR flight plan, we decided to change to IFR because of low
ceilings and we did not want to run into terrain at Portieres Glacier in
Anchorage. However, when we arrived there at 11,000' the weather was CAVOK
up to PAMR and we arrived safely (we expected PAMR to be VFR as forecasted,
but did not expect it to be this nice).

PAKT (Ketchikan) - KYAK (Yakutat) - (fly over PACV/Merle K Mudhole Smith) - PAMR (Merrill Field)
| | | | |
| --- | --- | --- | --- |
| | | | |
| ON the way to Yakutat | Final approach to Yakutat | A Maule in Yakutat | Gas station in Yakutat. A very rough place!! |
June 5th., the night we spent at the expensive and unfriendly Sheraton
Hotel. The next day we found a nice Pilot lounge and Motel at Merrill. It is
ACE http://www.acehangars.com hangars, completely new, with good
facilities for pilots, very friendly people (hello Dick!) and not too
expensive! We intended to stay only one night here, but because of the
weather we stayed two. In the evening we met old friend Mike Kerr and had a
good dinner at "Simon and Seaforts" (actually we ate there also the next
day).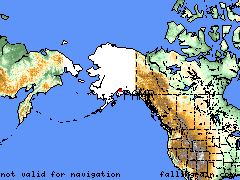 PAMR (Merrill Field)
Glacier on our way to Anchorage

Decent into the Anchorage area, at Portiers Glacier

Anchorage and in the back Mount Susitna, the so called "sleeping lady"

Tie down in Merrill Field

June 6th.. Waiting for the weather to improve and met a guy who owns a
Cessna 195 which can take off and land in 400' or so. A beautiful airplane!

| | |
| --- | --- |
| | |
| Lake Hood the busy Seaplane aerodrome |   |
June 7th., take off in VFR and higher ceilings our way to Northway (PAOR),
but already over Gulkana (GKN) the ceilings are getting lower and we decide
to switch to our IFR plan filed as an alternate option (that was really a
very kind briefer!). The weather in Northway was forecasted to be best VFR
anyway - and a soon a we reached the valley of the Alaskan Highway the
weather was really very nice!!
In Northway we ate a very tasty American breakfast (would you believe it?).
We then continued to Whitehorse (CYXY) and then via Watson Lake (CYQH)
without landing), to Fort Nelson where we stayed over night.



PAMR (Merrill Field) - (fly over PAGK/Gulkana) - PAOR (Northway) - CYXY (Whitehorse) - (closs CYQH/Watson Lake) - CYYE (Fort Nelson)
On our way to Northway

In Northway

In Northway we met two airplanes on their way to Anchorage. They were friends, one plane was just on a fun trip with the lady in the other plane. She was going to move (change her domicile) to Anchorage in order to work there as a pilot! Imagine, somebody packing her stuff in a airplane and move to Alaska!!

Along the Alaskan Highway

In Whitehorse
June 8th., we went back to Seattle via Fort St. John (no stop), Prince
George (CYXS), Williams Lake (CYWL,no stop) and Pitts Meadows (CYPK). Due to
urgent business, Mr. Kumazawa decided to go back to Japan on a direct flight
from Vancover to Nagoya and he left us at Pitt Meadows. That was when the
trouble began. Despite us filing "ADCUS" in our flight plan to Seattle, the
customs there was not informed and the officer Mr. Geary really grilled us
for 1.5h. He examined all our luggage in detail, looked in all our private
papers etc.. Wonder were we had the "custom" decal, why I am a commercial
pilot, whether our immigration forms were appropriate, whether we had to
much cash, where Mr. Kumazawa left, whether we had anything in the airplane
undeclared (checked with flashlight).......
Well, eventually after copying most of our papers, he let us go. The only
subject remaining was the aircraft registration - which was clarified by
Galvin Flying the next Monday.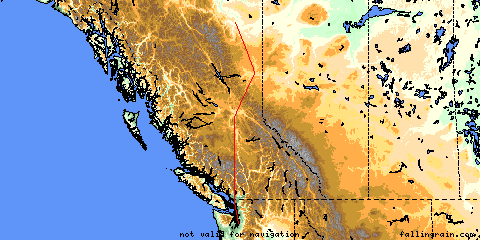 CYYE (Fort Nelson) - (fly over CYXJ) - CYXS (Prince George) - CYPK (Pitts Meadows) - KBFI (Seattle)
In Fort St. John where we stayed overnight. A very friendly young lady took care of us, refueled the airplane and took us to the Motel.
A strange lake on our way to Pitt Meadows
Rainbow on our way to Seattle
Anyway, the journey was a great adventure with more than 20h flying time
(less than 4h IFR), mostly in nice weather. I would like to thank everybody
me met for the great hospitality and last but not least Nick Frisch from
Galvin Flying who trusted us to take the nice Mooney to Anchorage and bring
it home safely.

Peter